I used to see Ghosts as a child
Confession time

 
I am definitely out on a limb (Shirley Maclaine autobiography book #1).
As a child, I used to converse with other children, but they were spirit children. I used to speak to nature spirits because to me, they were real. Later I realised that perspective wasn't wanted, in fact it was seen as off the wall and a bit mad. So, I slowly withdrew from that unseen land, in order to fit in.
I never lost the connection or knowledge, even though I shut down drastically in my teen years.  It was painful living in a world where people couldn't see what I did. I felt very alone.
I couldn't bear being the weird one, so I stopped feeling to survive.
The inner world however, wouldn't let me go and I always felt that something was missing from my life, right through my teens and into the early and middle 20's. Everything felt flat by then, I was living in a 2D world and was deeply unhappy. I knew there was a deeper world, the one no one seemed to acknowledge. My spirit was crushed through the outer culture's insistence on me behaving in a certain way. 
It is different today. I have a vibrant inner life, which I connect to every day. It gives me the sustenance I need to deal with most challenges. This brings me to the Corona Virus, which has upturned our world. I am sanguine in the face of this apparent threat. I wonder if its an ally. 
Is this an opportunity in disguise – seeing if humanity will take a different approach?
What kind of humans are we in the face of this natural response from nature? What have we forgotten that we need to remember? In Rudolf Steiner's huge body of work (insights only here), he offers his knowledge to us in answer to those questions.
What if the Corona Virus was teaching us we are not separate from nature? But a part of it and therefore co-creators who need reminding of that. Perhaps this is an extraordinary act of compassion towards humanity, by life itself to get us to wake up.
There is talk about fighting it, as if we could control nature. We are Nature, a part of life, separation and dominance is a myth. Fighting talk shows the level of disconnect from this truth.
We need to really get the lesson of co-operation. The reality we are facing, not only with people getting the virus and some dying. But, with people losing their jobs. Businesses will go bankrupt. It is serious, and this is awful. Things are changing. It's topsy turvy, but will it change significantly? Or will we simply pick up where we left off before the virus, once its all over, and lose the opportunity for radical change?
It's awful if we continue with the capitalist society
Where people because their circumstances, are in survival mode at this point, which is the best they can do. Where we would rather shun people at the border instead of invite them in and feed and clothe them.
It's awful that people are squashed and squeezed to serve a system that doesn't serve them in equal measure in return. There is a great imbalance. In This New Statesman article by Paul Mason and I quote,
"It will be impossible for capitalism to return to normal: we need an economy that has people's wellbeing and public health as its priority."

He lucidly suggests a different tack, "what Sunak is going to need is an anti-capitalist imagination."  Where money isn't God, but a part of a smarter way of living, that encompasses inclusivity. Where economics becomes a broader base. It's an interesting article. There are other thinkers and doers out there. Take Charles Eisenstein, whose work ranges from Sacred Economics to the Ascent of Humanity transcending this notion of self.
To quote from the summary of Charles Eisenstein's Book – Sacred Economics:
"Sacred Economics traces the history of money from ancient gift economies to modern capitalism, revealing how the money system has contributed to alienation, competition, and scarcity, destroyed community, and necessitated endless growth. Today, these trends have reached their extreme—but in the wake of their collapse, we may find great opportunity to transition to a more connected, ecological, and sustainable way of being."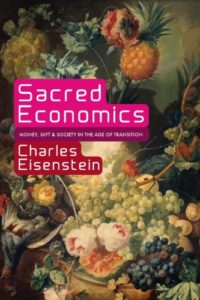 Perhaps in this time of the Corona Virus
We will wake up to our place in the cycle of life.  Maybe we can be grown up enough to recognise that we aren't in charge. That we need to surrender our grip on how we do things, to find a new story, a new way forward. A new partnership with life and nature – co-creators on a live planet.
"After all, when you ask someone why they first became an environmentalist, they're likely to point to the river they played in, the ocean they visited, the wild animals they observed, or the trees they climbed when they were a kid. This refocusing away from impending catastrophe and our inevitable doom cultivates meaningful emotional and psychological connections and provides real, actionable steps to caring for the earth."(Charles Eisenstein)
Imagine a world where science and creativity worked together and not as separate disciplines, where the bravery to change means more than the will to remain holding onto to something that causes harm and destruction for all life.
The reconciliation and peace processes of Northern Ireland are a great example of this pro-active stance.
The following snippet from an article in The Irish Times is sobering and inspiring:
She became involved in peace and reconciliation work in a bid to show an example for her daughter and teenage sons, who she feared could be radicalised into retaliating over their father's death.
"What brought me into the work that I'm doing now is that Patsy (her husband) was murdered on our eldest son's 18th birthday. I had to find a way to keep me sane and able to look after myself. I was very aware that the boys were at a very vulnerable age at which they could have joined any group going. So I started working with a lot of peace and reconciliation groups."
Initial misgivings
She says her family initially had misgivings: "It's just that my family were very concerned for me doing this because they couldn't understand why." She goes on to explain her friendship with a republican activist, a woman on the other side. It wasn't easy, but they did do it.
Change is possible
It will require surrendering what we think we know, in exchange for what is the right thing to do.
Therefore at this moment in time
We have our pause, our moment to consider other avenues. The Corona Virus has stopped planes, the crazy rushing around, the frantic struggle to make money, which has left us incomplete.
Many people are crying out for this, shift. Weary of the constant push for more stuff, consumed with consumerism, wanting a different type of society. What if our gross national product depended upon happiness? Bhutan is managing it. It's not a walk in the park, but they have certain policies in place, called pillars. These are:
1. Equitable and equal socio-economic development
2. Preservation and promotion of cultural and spiritual heritage
3. Conservation of environment and
4. Good governance which are interwoven, complementary, and consistent.
If they can, why can't we?
It's going to take work
Huge patience, great thought, improvised learning and deep listening to others different to ourselves, and it's going to take time for people to unwind from what they know, and trust a new pathway.
So, yes I confess, I am out there on a limb, with those who envision a new way forward. It is ok, we can look after each other and those that have the information can help us all to re-adjust.
It will be interesting to see what unfolds in the coming months.